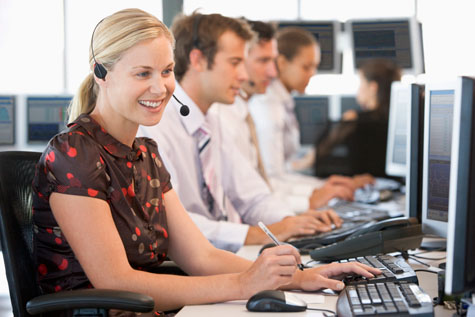 Businesses across the United States are known to outsource their extraneous and sometimes the crucial tasks to an offshore location. Reason? Well, to attain affordable solutions with high effectiveness and efficiency.
This is the reason that automobile giant Ford Motor Company delegates its business functions such as software development and customer support to India. Take for an instance of another US big cat American Express that decides to outsource back-office operations along with its IT services, application development & maintenance, and technical support to India.
General Electronics is another large enterprise that invested a whopping $130 million in setting up an R&D center in Bangalore, India. Last but not the least, the software giant, Microsoft is known to handover tasks such as technical assistance, management of databases, software applications, and devices to India.
So, what is it that so many big corporations of the United States of America are proactively outsourcing call center services offshore?
This blog is going to provide you a wider picture of how outsourcing call center services are benefiting the big cats of US business sector. So, if you are feeling skeptical about whether you should outsource your US based business's functions to an offshore location, read the blog and decide for yourself. Let's start:
Effect of Call Center Outsourcing Services on US Economy
Initially, when the corporations of the United States started outsourcing the main objective was only to put brakes on the operational cost. Today, the companies are routing towards outsourcing to expand their business operations.
Since the level of outsourced service is quite impeccable most of the times, business owners are not thinking twice before delegating their extraneous tasks to a call center situated thousands of miles away.
As per a report, in the year 2013, outsourcing partners of the United States companies hired a record of 14 million experts.
Somehow, outsourcing is being not liked as much in the United States as millions of jobs are being delegated to the foreign nations.
The bottleneck in providing the same level of service internally is the skilled experts in the United States are not ready to work for such low wages. IMHO, if the professionals in the US are not ready to work for a low wage, they could face a lot of these unemployment issues in the future.
Did you know that when it comes to tech support outsourcing, a business requires to spend only $ 8400 annually for an entry level expert in India?
This is why call center outsourcing services are so much preferred by the United States firms.
Let's take a quick look at the advantages your business is going to experience when opting to outsource.
Benefits of call center outsourcing services
Once you opt for delegation of your business's functions to an offshore location, you are all set to leverage on a set of benefits that come along with outsourcing.
These are:
No language barriers
Countries such as India and the Philippines hold a large chunk of English speaking population. Along with this, nations such as India is known for holding people with technical knowledge too.
Hence, while outsourcing your customer support or any other function to India, you will be least worried about the communication barriers such as dialect difference and technical know-how.
So, along with lost cost, high technical knowledge and fluent English are other benefits that tag along outsourcing.
Higher productivity
When you are handling extraneous functions such as customer & technical support internally, it becomes obvious that your attention will be diverted.
When you and your staff will not able to focus entirely on the business functions that drive your company's revenue stream, what do you think will happen? Of course, the efficiency of your business will take a dip.
Contrarily, when you outsource these tasks to a renowned vendor at an offshore location, you will get ample of time and space to work on the core competencies of your business, which, in turn, raises the overall productivity.
Better service
In-house agents sometimes get frustrated due to high call volumes or intense pressure from the customer. As a result, a lousy service level is provided to the customers that in turn, lowers the image of your business.
The professionals in the call centers hold in-depth knowledge and prowess in managing customer's queries with utmost professionalism and accuracy. This offers a scintillating service experience for your customers.
The call center experts are known to keep their calm in the worst of the cases, which is the key to providing a top-notch service to the customers.
Business expansion
The call center outsourcing services provided by the vendors located offshore are of such high level that the companies of the United States have now started to delegate to even expand their operations to foreign markets.
So, if you are planning to expand your target audience to Asia, outsourcing to a location such as India would be highly preferable and viable.
Around-the-clock assistance
Companies in the United States are also preferring outsourcing their functions to nations such as India for another vital facet; 24*7 assistance to the customers. Since India has a time difference of 12 hours, it becomes highly logical to choose call centers for around-the-clock assistance to the customers.
Read More: Top Call Center Outsourcing Trends for 2018
Final words
Outsourcing has its pros and cons but the kind of exposure and benefits it provides to the businesses of the United States prove that it is a profitable strategy.
If you want to ask something from us or want us to include some points, reach us in the comment section below. Thanks!