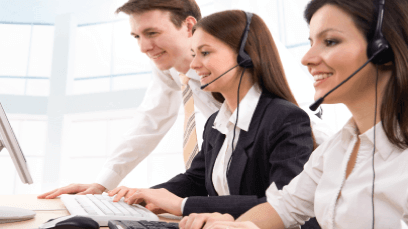 An unhappy customer is nothing less than a nightmare for businesses. Therefore, enterprises are focusing on crafting and delivering enriching and pleasurable experience to customers across communication channels, on each touchpoint. However, this does not at all mean that you are relieved from further duties; you must undertake strategic initiatives in order to gauge the quality of experience that your customers are offered by your business representatives. In fact, being an enterprise that aims to improve organizational performance consistently, you ought to measure customer satisfaction (CSAT) score, that's too on a regular basis that can help you develop analytics-based insights on how your business offerings have met customer expectations.
Customer satisfaction survey is an efficient step to know exactly about how your business is doing. Although it is so true that effective businesses are taking this task seriously and they are even collaborating with expert survey agencies; however, they must understand that conducting customer satisfaction survey is not a one-time task. They must know that conducting customer satisfaction surveys on a regular basis can be immensely helpful for business. Moreover, through efficient customer satisfaction survey, you can easily evaluate the efficiency of your customer-focused call center outsourcing services. In fact, businesses you can collect crucial data in structured form through customer satisfaction surveys, and this can help you immensely in knowing about the areas or departments that need your urgent attention. Undeniably, surveys are accompanied with numerous inherent complications, nonetheless you must know that these complications only when surveys are not conducted proficiently. Therefore, enterprises must be careful about the techniques, processes, and methods they embrace in order to conduct in-depth customer satisfaction surveys.
Given below are some efficient tips that can help you conduct an in-depth customer satisfaction survey.
Pay attention to customer service metrics: You need to keep a close eye on customer service metrics in order to know exactly how your business is doing. Your customer service team is actually the face of your business, and your customers interact with your brand only through your customer service professionals. Therefore, you cannot actually neglect the metrics that evaluate the efficiency of your customer service team. Therefore, expert survey agencies are paying attention to crucial customer service metrics, such as call abandonment rate, average call handling time, first call resolution rates, and so on. By examining these metrics closely, you can easily know more about whether your customers are pleased with your highly efficient call center outsourcing services.
Analyze social media: Social media or social networking sites are most potent platforms from where you can easily analyze what sorts of discussions your customers are involved in. It is not an astonishing or surprising fact that millennials are using these sites as potent tool to express their happiness or disappointment. In fact, once you start analyzing social networking sites, you can easily find plenty of reviews and responses that your customers share about your business. Therefore, you need to analyze these sites expertly, and you should even ask your surveyors to engage customers through social networking sites. An efficient customer engagement strategy focused on communicating with customers on social media platforms can help you evaluate customer satisfaction score quite easily.
Be careful about the channel preference of customers: In order to increase the response rate of your customer satisfaction survey, you need to be extra careful about the channel preference of your customers. For instance, if your customers are seeking top-tier call center outsourcing services through multiple channel, then you need to give equal weightage to all the channels, and you should try to conduct surveys through all the channels. On the other hand, if you are primarily serving the customers who are more used to telephone-based support services, then you must try to engage them through telephone in order to know more about their responses, feedbacks, and reviews. In short, by paying attention to the channel preference of customers, you can induce "accountability" factor in your initiatives focused on evaluating customer satisfaction.
A piece of caution: Enterprises must not draw any sort of conclusions based on incomplete, unstructured data or hypothetical situations.
In essence, you need to make sure that the entire customer satisfaction survey is based on pragmatic, convenient, and customer-friendly engagement strategies.