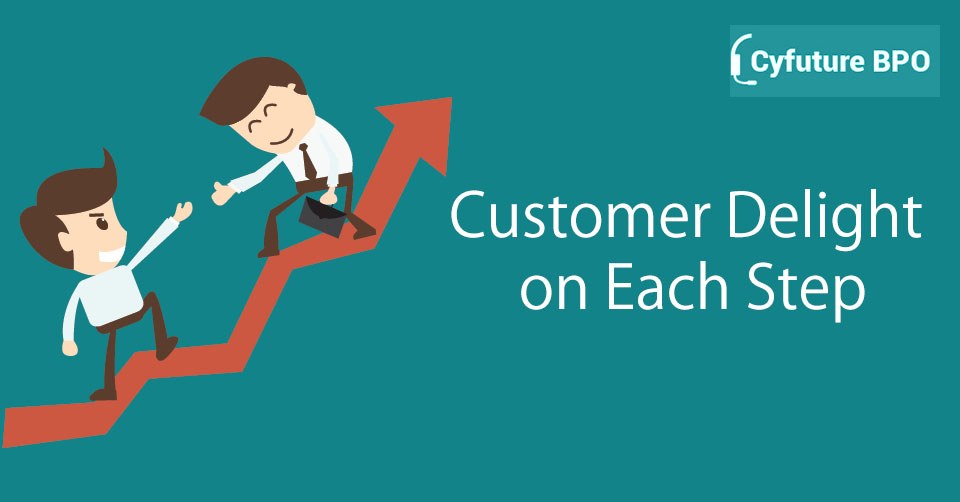 Customer delight is one such trending topic that has garnered the spotlight during various global business meets and conferences. Experts have been busy discussing its significance and elaborating upon pragmatic strategies that can enable virtually every business firma achieve this strategic objective in quite an easy manner. In fact, some industry aficionados have even asked businesses and their representatives to walk that extra mile in order to please and surprise customers in every possible manner. As a delighted customer base can bequeath lots of strategic benefits, businesses and their outsourcing partners must follow some trusted strategies. This blog aims at shedding light on 6 crucial stratagems that can ensure you a delighted customer base.
1. Ensure value-centric customer service experience: Needless to mention, customers demand values under every circumstance (even if a circumstance is totally against your favor). In fact, experts have advocated that even if a customer is not willing to embrace your offerings, then also you just cannot afford to deviate from delivering values. That's why businesses should clearly outline their specifications while availing outsourced customer support services that they want their customers to be treated in a highly value-centric manner. Once you have shown your will to deliver values to your customers, it is more than enough to delight and please your customers.
2. Don't mind helping your customers proactively: Although this strategy is somehow or the other related to delivering values, but the term 'proactive' actually deserves special mention, no matter how elaborately it has been discussed! If you are helping your customers in eliminating their doubts and curing their service related ailments, you are perfectly positioned to boast a delighted, pleased, and happy customer base. That's why it is quite empirical to ask your outsourced call center services provider to deliver proactive assistance, guidance, and support to every customer. This is basically the most potent customer service force that can ensure you positive outcomes.
3. Make use of latest technologies to ensure hassle-free experience: Some businesses are in the misconception that embracing all sorts of technologies and tools can expose them to unwanted expenses. They believe that technologies and businesses are not at all inter-related, and that's why they maintain distance with investments towards technologies. But you should know that latest technologies actually can help you simplify organizational functions, and it can help you align various processes and initiatives according to customer expectations. Therefore, it is said that forward-looking businesses should not shy away from using latest technologies for various processes and organizational campaigns.
Read Also: How to Build a Base of Happy and Loyal Customers?
4. Draft and implement multichannel engagement strategies: As businesses have successfully expanded their reach over the past few years due to latest developments in the field of communication technologies, it has become somewhat challenging for them to take customers (located in various realms) into scrupulous confidence. Herein, nothing can be as significant as acquiring multichannel outsourced customer support services. If your customers would be having an option to connect with your professionals or brand representatives through multiple channels and social media platforms, it can eventually help you meet their customer service expectations in the most adroit manner.
5. Seek feedbacks from customers on a regular basis: Once you have conquered a large customer base, things would become more complicated to as those relate to understanding all your customers from diverse realms, professions, and socio-economic backgrounds. Additionally, the demographical factors would also make it somewhat challenging for you to draft an organizational customer service framework that ensures excellent solutions to all your customers. Herein, taking feedbacks from every customer, after every interaction, is actually a far-sighted action that can allow you better understanding of your customers. Therefore, you must seek outsourced call center services from those service providers that can help you seek customer feedbacks quite regularly.
Read Also: 7 Things You Need to Know Before Selecting a BPO Firm
6. Rollout attractive referral programs and reward systems: Although some industry veterans and aficionados might argue that it is not related directly to customer service, but you need to comprehend that a minor lacunae in customer service frameworks can easily be compensated with highly attractive referral programs. Therefore, businesses must conscientiously design and rollout some attractive referral programs and reward systems in order to foster reinforced and robust relationships with customers, even during unfavorable situations!
Conclusion: These are the six cardinal strategies and trusted stratagems that can warrant you a delighted customer base, and therefore, you must pay due attention to each of these.