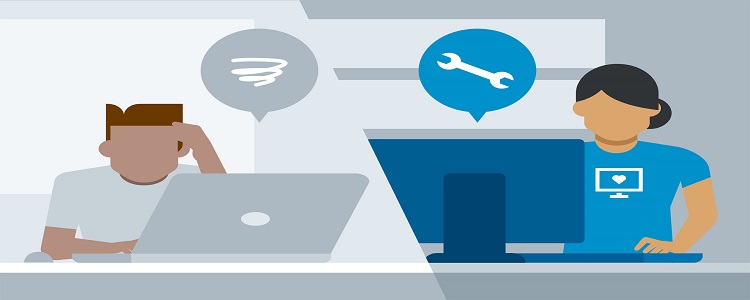 The ability to assist the customers in the perfect way is the ultimate key to success for any business in the market. Globally, companies are seeking the best practices to attain maximum satisfaction of their customers. While some of the firms look to settle things on their own (setting up an in-house help desk facility), others, look to delegate the challenges (outsourcing) in order to gain profitability.
Outsourced call center services are gaining immense popularity in the business sector. With a wide array of services such as tech-support, live chat support, accounting, outbound, help desk and similar, BPOs are spreading their roots in every vertical of businesses. One such imperative service that is offered to provide the solution to the customer's complaints and doubts in the least possible time is the help desk.
Helpdesk services providers hire deft professionals and train them to become extremely efficient in the overall process. These agents ensure to understand the pain-points of your customers and then render a solution accordingly.
Why is an in-house help desk facility not a good idea?
One of the major setbacks faced by the companies maintaining an in-house premise is the absence of tools, resources, and prowess to keep up the productivity. For instance, a sturdy help desk premise is known to equip real-time voice and web chat assistance that modern-day customers expect every time.
Most of the in-house team also didn't have exposure to a knowledge base that holds valuable detail about the past conversations. This previous interaction information is passed to the employees who then utilize it to offer a precise and prompt resolution. Along with this, there are some other additional attributes that usually lack in an internal help desk facility, which, in turn, makes it impossible to assess the accountability.
Read Also: Call Center Outsourcing Can Ensure Efficient Business Continuity Management
How does outsourcing the help desk helps?
Mentioned below are the advantages of an outsourced help desk service:
Elevated availability
Generally, a business works in the normal shift as in from 9 in the morning to 5 in the evening. However, quite a few of these companies need to have an around-the-clock assistance to increase their profitability. Because if you leave your customers after the regular business hours, you should not expect them to come back next morning. A gone customer is a lost revenue that is not going to be credited back to your account.
Therefore, competent help desk services vendors ensure to provide a 24/7/365 days (that include weekends and holidays) assistance to your customers. This increases the number of happy customers at your business, which, in turn, impacts the sales figure and brand value positively.
Enriched response time
Helpdesk or live chat support agents are known to provide the remote access help to the customers. This means the support expert will take control of your desktop or account without actually being there in order to address the problem.
Two benefits arise from this:
Prompter response time to analyze and troubleshoot issues
No labor, material or transportation cost
Since agents are present swiftly, an enhanced response time is quite obvious.
Lessened volume
A competent help desk services provider ensure to keep its focus on lessening the support ticket numbers. This is done with the help of automation, predictive demand estimation, and self-service tools. This ensures a smooth business operation for your company.
Focus on the core competencies
When you are managing the internal help desk team, your employees can get distracted from their area of expertise. Also, the agents dealing with customers may feel agitated and frustrated with the overall pressure of targets. This discontentment among the employees may lower down the comprehensive productivity of your business.
Outsourced vendors have experts who are so deft and efficient in their prowess that your team gets the time to shift their focus back to the core competencies. This improves the overall performance of your company.
No scaling issue
Few businesses have seasonal demands for their products or services. Or some companies witness a humongous elevation in call volumes during a particular time of the period. For an in-house team, this situation is same as a nightmare. Either you need to hire more people when the call volume is high, or you require to lay few experts off during low demand period.
This situation completely changes when you are partnering up with proficient help desk service providers. They have the resource and expertise to balance the upscale and downscale time without the need to hire or fire experts. This way, your business only pays for the number of tickets that processed.