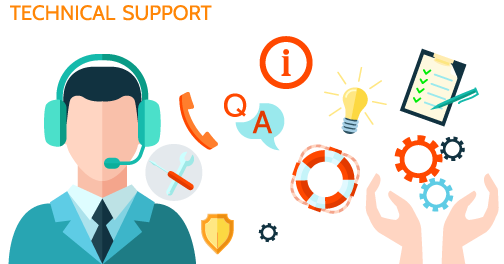 Startup companies are reaching heights of success with new business strategies, expansion, and growth. These are the top priorities among entrepreneurs. When establishing a new startup business, companies lack adequate resources to invest in their growth of business. During such severe time, industrialists prefer outsourcing their technical support overseas to minimize unnecessary expenditures and focus on their core business to build better products and services.
Competition is so high that it is crucial to join forces with a strategic business process outsourcing service provider to establish a strong foot-hold on the non-core business process of an organization. This is why startup enterprises must approach expert B2B call center for a technically-advanced client service. Not only customer service centers, a lot of startup companies are outsourcing their IT sector, accounting department, administration department and much more overseas. Technical support outsourcing solution providers deliver B2B relationship for the expansion and development of proper schemes.
Read more: The Secret Behind Effective Teamwork In B2b Call Center
Outsourcing is still the trending topic among entrepreneurs for several years now, but the emergence of cloud environment shaped new ways to lay out business goals and get certain processes implemented effectively and affordably. Few rare practices and concepts are mentioned below for a successful business strategies that can empower you to safeguard your victory with the help of a virtuous technical support outsourcing.
Assembling Analytics
Acquiring intuition and perception into a customer's behavior and preference is a triumphant opportunity for small businesses to excel. And to achieve such rainbow goals, it is important for an organization to outsource technical support overseas so that the managers can assemble analytics into the core niche of their products and/or services. Gathering analytics assist senior supervisors of the company on how their product or services are valued by the clients or consumers. Such presumptions and assumptions help companies to improve the quality based on the ultimate user preferences.
Content civilization
Content does not play a direct role in customer service but is definitely a crucial part of business growth. Various outsourcing service providers accommodate the facility of creating and engaging content for the clients or the public in general. A good content for a website significantly helps business to succeed in the long-run and promotion activities. It is an excellent idea for a startup company to outsource their content development services to a trusted vendor who offers content like blog post, articles, product description and so on.
Read more: Call Center Outsourcing Can Ensure Efficient Business Continuity Management
Receiving great and precise information about the marketing copies organized and arranged by experts can help B2B startup companies promote their services and products effectively among their targeted clientele and ensure exciting growth in the business.
Customer convenience
Inaugurating in-house customer service center will consume a huge amount of money and time. Smart and adroit business owners will never hook up their resources building an in-house call center, especially if it is a startup company or business. Maintaining customer support center in-house is not a plain sailing task for many companies and especially for small businesses. Yet, a solution to this problem comes at an affordable and appropriate price. Outsourcing your customer support to an experienced technical support outsourcing service provider will help startup enterprises support their clients nationally as well as internationally.
Read more: How To Make Your Outsourced Customer Support More Effective?
Marketing mechanization
Marketing mechanization works in the weirdest and convenient way possible for business startups at the same time. Automated marketing can boost business success while accommodating other dedicated resources like expenditure and core-business processes. Now-a-days businesses are able to automate various non-core tasks easily and smoothly like the social media marketing, which consumes ample amount of time. Most businesses manage in-house social media marketing, but not everyone is an expert handling promotion with promptly changing social atmosphere.
Vendors outsourcing technical support offer social media marketing and management services along with other amenities. Handling customer queries over various social media mediums and posting regular updates of a business, these service providers help an organization outshine and grow quickly and efficiently.
Therefore, when you are managing a startup or a small and medium-sized enterprise, you cannot invest your time supervising IT related issues and problems. Since a lot of startup companies are busy accumulating funds and managing gist business tasks, they cannot concentrate on delivering quality customer services. Hence, outsourcing your crucial processes to successful B2B call center firms (so as to handle customer-related issue adroitly) will prove to be a pious strategy for startup enterprises.