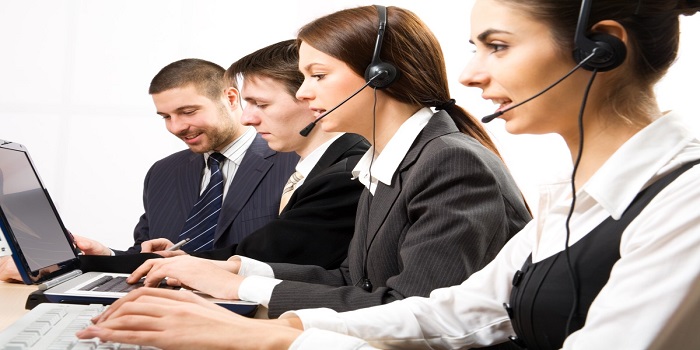 Every business, be it large or small should know the value of a call center. Call centers are a great way to gather information and a tested method to best serve the customer pool. Besides the obvious value, these call centers generate through their various functions they are also an embodiment of trust and credibility. Customers prefer businesses that can be held accountable or can be contacted upon in case of a problem or issue. A complete call center works in a two-way direction to complement a business.
For a customer, the significance of whether a call center is in-house or outsourced is null. Businesses can hit their head on the walls contemplating about factors like profitability and availability of resources before deciding whether to outsource their call center or not. But it is inconsequential in the minds of the customers. What they want is proper service and if undelivered they can be quite unforgiving. Therefore, it is important for businesses to deliver quality services irrespective of whether they choose the option of BPO outsourcing or not.
Though there are various processes and functionalities, both basic and peripheral, in a call center or a contact center as a whole. Mainly all these processes can be stacked under two broader umbrella terms vis-à-vis Inbound and Outbound.
In simple terms, Inbound processes are generally those where the customer is the one to initiate the call while outbound processes are those where the call center representatives are the ones that are actively involved in generating outgoing calls.
The inbound call center service processes can actually be very diverse and agents need to have relevant training and technical know-how of the same. Sometimes these processes are so far away horizontally that the only common thing between them is the term Inbound.
Let us take a walk through the various processes that a current inbound call center service provider delivers to infer a brief understanding about the whole thing to our readers.
Chargeback is essentially the return of funds to a purchaser. It is the reversal of a prior outbound fund transaction. It is a consumer protection mechanism and the reasons for initiating chargeback may vary but they are basically related to clerical, fraud, technical and quality related issues.
Read Also: The Growing Significance of Inbound Call Center Services
Insurance claim Processing-
Many Inbound call center service providers have made a name in the market for their efficient and accurate insurance claim processing solutions. These claims may be related to medical, life insurance or vehicular insurance.
Email management solutions-
Businesses receive a large volume of emails throughout the year and to handle these volumes enterprises employ agents. These agents may be direct employees of the organization or can be outsourced agents. The advancement in the field of database management and customer resource management(CRM) has allowed businesses to categorically handle and respond to large volumes of electronic mails in a short span of time. Database management platforms such as Oracle, SQL are the leading software solution provider in this field.
Technical support refers to a wide range of support services provided by enterprises to their customers. The reps are trained on the various aspects of a product such as a computer, software products, mechanical goods etc. so that they can properly assist the user. These reps are usually from a technical background.
Virtual reception is similar to a normal reception except that the task is performed over the phone where the agent is trained on phone etiquettes and customer service skills. These reps handle calls on behalf of the organization, give out information, and play the role of a switchboard operator. Outsourcing such services reduce a lot of cost for the company.
Order processing is another extension of inbound customer service. The importance of efficient order processing can be assessed by the staggering number of orders in a b2b or a b2c business. The inability of a business to undertake and process order in time will definitely lead to a lesser rate of customer retention and will damp the brand image. E-commerce websites are a good example of efficient order processing.
Debt collection can become a burden for an organization due to the unpredictability of the financial world. A lot of people struggle to clear their debts and as a result their outstanding bills shoot up sky high. This in turn adversely affects both small and large businesses alike. BPO outsourcing companies have processes that can minimize and mitigate these risks for businesses and boost their account receivable collections.