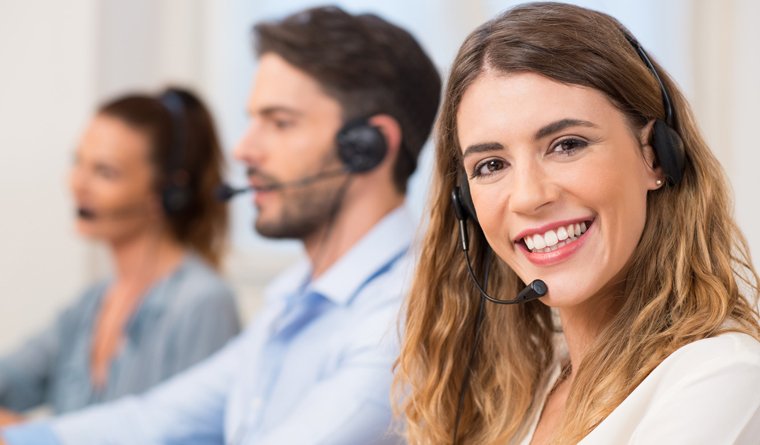 The elemental facet with which fortune 500 companies and government organizations are able to sustain their positions in the market is the constant focus on the core competencies. When a business continues to keep a strong focus on the core tasks, the profitability and the performance is inevitably increased.
To do so, companies in the USA tend to outsource the call center tasks to BPO service providers. The BPO service providers not only offer the support to the customers on call but also through other channels such as emails, web chats, text messages, and so on.
However, there is an alternative to outsourcing; maintaining an in-house call center. But, handling an omnichannel call center requires high cost & time investment. Because apart from the installation of technology & tools, businesses would require to hire & train employees. All this would cost your business enormous capital.
Without doing all these essentials, the internal call center would not able to provide an up-to-the-mark service level to the customers. Hence, call center outsourcing is a much viable option to earn a profit and manage the business functions in a much orderly manner.
Through this blog, I am going to show you why the companies in the USA delegate their business functions to a specialized service provider. Let's start with few basics first:
What is Call Center Outsourcing?
Call center outsourcing is a business practice where an organization contracts its tasks such as customer support, lead generation, telemarketing, and back-office operations to a specialized service provider.
What is Outsourced Customer Service?
When a business handovers its customer support segment to a service provider firm, the service offered is called outsourced customer service.
Which USA companies outsource?
Companies such as Apple, Amazon, Ford Motors, American Express, and Microsoft are some of the biggest outsourcing clients from the United States.
Now let's hop on to the reasons that explain the inclination of the American companies towards outsourcing:
1.Dip in operational cost
As said, setting up an internal call center is a costly affair as the infrastructure, technology, and hiring & training of the agents demand a good investment. On the other hand, when outsourcing, these costs are trimmed remarkably.
This happens because call center service providers ensure to divide this cost among multiple clients or businesses that leverage on the merits by paying a nominal charge. Call centers provide the option to businesses to either pay on the basis of a transactional model or on per-hour model.
Outsourcing companies also take the 'shared agents' approach through which the idle time of agents is reduced drastically.
2.Resilience
An in-house call center faces the challenge when high or low call volume situations occur. During the high volume, additional agents are required. While the volumes are low, agents are sitting idle.
Call center outsourcing provides your business with a boost to counter both the upscale/downscale circumstances effectively. The outsourced call centers are known to accompany a big staff of diligent professionals who are allocated to multiple clients.
So, when the call volume goes high for one client, an outsourced call center makes sure to allocate more agents for the same business.
Vice versa, when the call volume takes a dip, the agents from the project are allocated to some other business.
This way, the cost-per-call is curtailed effectively for the outsourcing firm and your business never faces an embarrassing situation.
3.The Staff
Any company dreaming to perform their 100% has to have a competent team of experts. Without the right kind of professionals, a business can never run for too long.
Hence, the call center service providers ensure to hire and train proficient agents so as to make the latter expert in providing an unparalleled assistance to the business's clients. The best part is that your business would be able to get a direct access to already trained and experienced professionals with nominal investment.
These sorts of experts, if you want to hire for an internal call center are going to cost you fortunes. Hence, call center outsourcing is being practiced by the USA companies such as Apple, Microsoft, Ford Motor and American Express for a long time now.
Along with this, the outsourced call centers hold prowess in dealing with different business requirements, which means they are specialist service providers.
In-house call centers, on the other hand, are majorly focused on dealing with specific types of products and services. This makes it extremely arduous for the in-house experts to render a top-notch service level to the customers.
4.Cost handling
A majority of the call centers provide services on a cost-per-transaction model. To make sure that the desired profitability is attained, call centers ensure to emphasize on the tools and prowess that help them to effectively assess the costs.
The detailing of the cost model is then disseminated to the businesses on a weekly or monthly basis (as needed by the clients). This helps the businesses to examine the performance of their marketing efforts and holistic tasks.
This level of cost detailing is not possible with in-house call centers because the latter have costs that are quite stringent to check on and hence arduous to assess profitability.
5.Data analysis and quality check
Call center outsourcing is a sophisticated process that involves the delegation of the tasks such as customer support and telemarketing to a renowned service provider.
Now, when an outsourced call center takes care of your customer calls, it simply cannot ignore the information that comes along. The call center's managers ensure to analyze this information to offer you an insight that helps you to enhance your business's functions effectively.
Remember, that an outsourcing company is known to cater to the diverse requirements of numerous businesses. This means that the outsourced call centers have all the necessary experience and tools to draw insight from a pile of information that is available.
The outsourcing companies contract an SLA (service level agreement) with businesses assuring that all the services provided by the former parties will be in line with the professional standards.
The call center service providers emphasize metrics such as Answer time and First Call Resolution to keep a stringent check on the performance of agents. Internal call center managers find it extremely difficult to measure the effectiveness of agents due to lack of resources and time.
Read More: Things to Consider while Going for Customer Service Outsourcing
Final Words
Companies across the United States and European nations are now hurling their way to adopt the call center outsourcing practice so as to leverage on the benefits associated with it.
I have tried to scribble down a few significant reasons to why companies choose to outsource for their businesses. If you have any suggestion, reach me in the comment section.
Thanks!